Category Archives:
Nutrition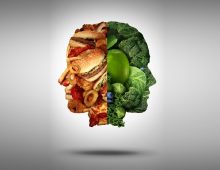 By Maria Jauhar, M.D.
Eating right doesn't have to be hard. As part of National Nutrition Month, you can begin to develop better eating habits simply by shifting to healthier food and beverage choices. These recommendations from the Dietary Guidelines for Americans can help get you started.
1. Emphasize fruit, vegetables, whole grains, and low-fat or fat-free milk and milk products.
2. Include lean meats, poultry, fish, beans, eggs and nuts.
3. Make sure your diet is low in saturated fats, trans fats, salt, and added sugars.
Make Your Calories Count
Look for foods that are packed with vitamins, minerals, fiber, and other nutrients. These foods also tend to be lower in calories. By seeking out these "nutrient-rich" foods over processed foods that contain a lot of calories without a lot of benefits, you can provide your body with better fuel. Nutrient-rich foods can also help you stay healthy, manage your weight, and be physically active.
Focus on Variety
To get the nutrients your body needs, include all the food groups among your food choices. When it comes to fruits and vegetables, remember that that color is the best preventive medicine. Eating fruits and vegetables in a variety of colors – red, dark green, yellow, blue, purple, white, and orange – not only provides a visually attractive meal, but also provides a broad range of nutrients. In addition, remember that fruits and vegetables can be fresh, frozen, or canned. Include fish, beans, and peas among your protein choices. And eat at least three ounces of whole-grain cereals, breads, crackers, rice, or pasta every day.
Know Your Food Labels
The Nutrition Facts label on all packaged foods contains important information. Here's what to look for: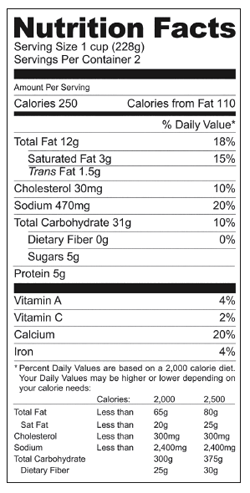 First, check out both the serving size (the amount for one serving) and the number of servings in the package, and then compare your portion size (the amount you actually eat) to the serving size listed on the panel. If the serving size is one cup and you eat two cups, you are getting twice the calories, fat, and other nutrients listed on the label.
Second, look for the number of calories are in a single serving and the number of calories from fat. Steer clear of food products that contain high amounts of fat per serving.
Third, use percent Daily Values (DV) to help evaluate how a particular food fits into your daily meal plan. Daily Values are average levels of nutrients for a person eating 2,000 calories a day. A food item with a 5 percent DV of fat provides 5 percent of the total fat that a person consuming 2,000 calories a day should eat. And remember, percent DV are for the entire day, not just for one meal or snack. For total fat, saturated fat, trans fat, cholesterol, and sodium, aim for food that contains less than 5 percent DV per single. For vitamins, minerals, and fiber, look for foods that contain more than 20 percent DV per serving.
Schedule a Complete Nutritional Screening
If you want to take your nutritional goals to the next level, then you might want to consider scheduling a nutritional screening, which is just one component of our healthy lifestyle management program. Just call us at 912-897-6832 or click here to submit an appointment request.
In addition, through our physician-supervised medical weight loss program, we can help you reduce your risk of cardiovascular disease, hypertension, Type 2 diabetes, high blood pressure, sleep apnea, and more. These are all chronic conditions associated with weight gain and obesity.